"The Edge... there is no honest way to explain it because the only people who really know where it is are the ones who have gone over."
SURPLUS
El Solitario SURPLUS sells items that were used in photoshoots, collection samples, prototypes, overstocks, rarities and any other pieces no longer needed at a fraction of their cost. We believe that great style should be accessible to everyone, which is why we strive to provide a shopping experience that is both inviting and affordable and hopefully inspire riders to update their wardrobe in a sustainable way.
SHOP SURPLUS
COLLAB: Funris X Ornamental Conifer
You cannot think of El Solitario without thinking of Nicolai Sclater, aka Ornamental Conifer. Since our roads crossed - more than a decade ago - we´ve proudly enjoyed his evolution from teenager street poet/ sign painter of the 10´s into the massive dad and artist he is today, always exposing accepted, and often repressive conventions of order and logic, in favor of strategies of chance, spontaneity, and irreverence towards an improved self. We love you hermano, thanks for this incredible collab.
"In a world full of sheep it makes sense to be a wolf."
― El Solitario
MX JERSEYS
Fight the elements. Racing or exploring, El Solitario MX Heavy Duty Jerseys always have your back.
SHOP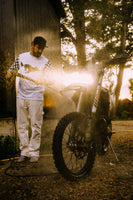 "Freedom to be whoever you need to be."
― El Solitario
"An outlaw can be defined as somebody who lives outside the law, beyond the law and not necessarily against it."
― Hunter S. Thompson
EL SOLITARIO
"El Solitario is a Gesamtkunstwerk - a total work of art, in which the riders, their gear, their machines, their backup, the photography, and the film made of their adventures, are shaped to one vision."
Paul D'Orleans - Cycle World